F.2-4 Admission for 2020-21
Announcement:
Sunday Mass will resume from 7 June (Sunday) at School Chapel. Details are as follows:
10:30 a.m. (English)
The congregation will be limited to 50% of the normal capacity of the Chapel. Live streaming will be arranged in classroom(s) when the Chapel is full.
When entering the school campus, the faithful should put on a face mask, take body temperature and cleanse their hands with sanitiser.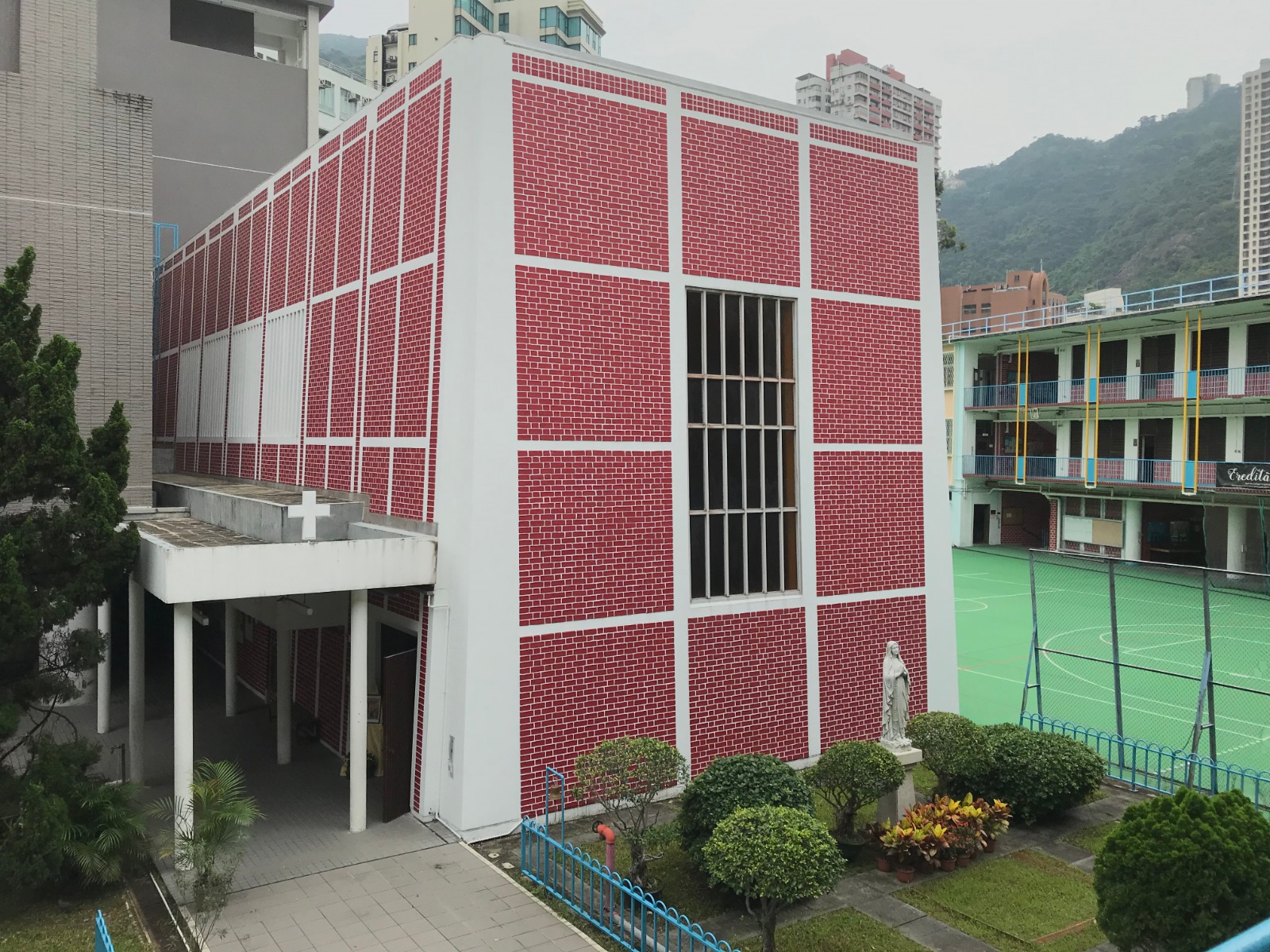 Election for the Position of Alumni Manager to the Incorporated Management Committee (IMC) of Wah Yan College, Hong Kong

Dear Alumni,

Please find below the schedule of the election of the Alumni Manager for the years of 2020 - 2022. All Wahyanites are welcome to register as voters and be nominated as candidates of the election.

Election Schedule:

Date

Event

13 May 2020

Issue an announcement setting out the procedures for Alumni Manager Election
Begin the Alumni Manager nomination procedure
Begin the Alumni registration as electors

12 June 2020

Closing of the register of Alumni
Closing of the Alumni Manager nomination procedure
List candidates' info

26 June 2020

Election Day

27 June 2020

Result Announcement
Venue: Wah Yan College, Hong Kong
Poll Hours: 14:00 - 17:00
To register as a voter, please click here.
For details and procedures, please click here.
Should you have any questions or any documents in hard copy form are required, please contact
- by email: Peter.Tang@hk.sedgwick.com (Peter Tang, Returning Officer)
Incorporated Management Committee

Parent Manager Election 2020-2022 Nomination Period: 13 May,2020-10 June,2020 For details, please refer to the letter posted on the school intranet.
Dear Parents and Wahyanites,

Hope you are all faring well!

The Education Bureau announced on 5 May, 2020 that F3 to F5 students in secondary schools will resume classes on 27 May, 2020; whereas F1 and F2 students will resume classes later on 8 June, 2020.

While e-Learning will continue till class resumption, the detailed plan of the arrangement of sanitary precautions on campus, school hours, supplementary lessons and summative assessments or exams of each form will be disseminated to parents and students next week.

Thanks again for your trust and understanding in the past months! The whole Wah Yan community shall keep walking through this difficult time together.

God bless.
Sincerely,
Wah Yan College, Hong Kong
5 May, 2020
Sharing by Fr. Clement TSUI, S.J.
Message from Fr. General:
The Apostolic Blessing on the 100th Anniversary of Wah Yan College, Hong Kong :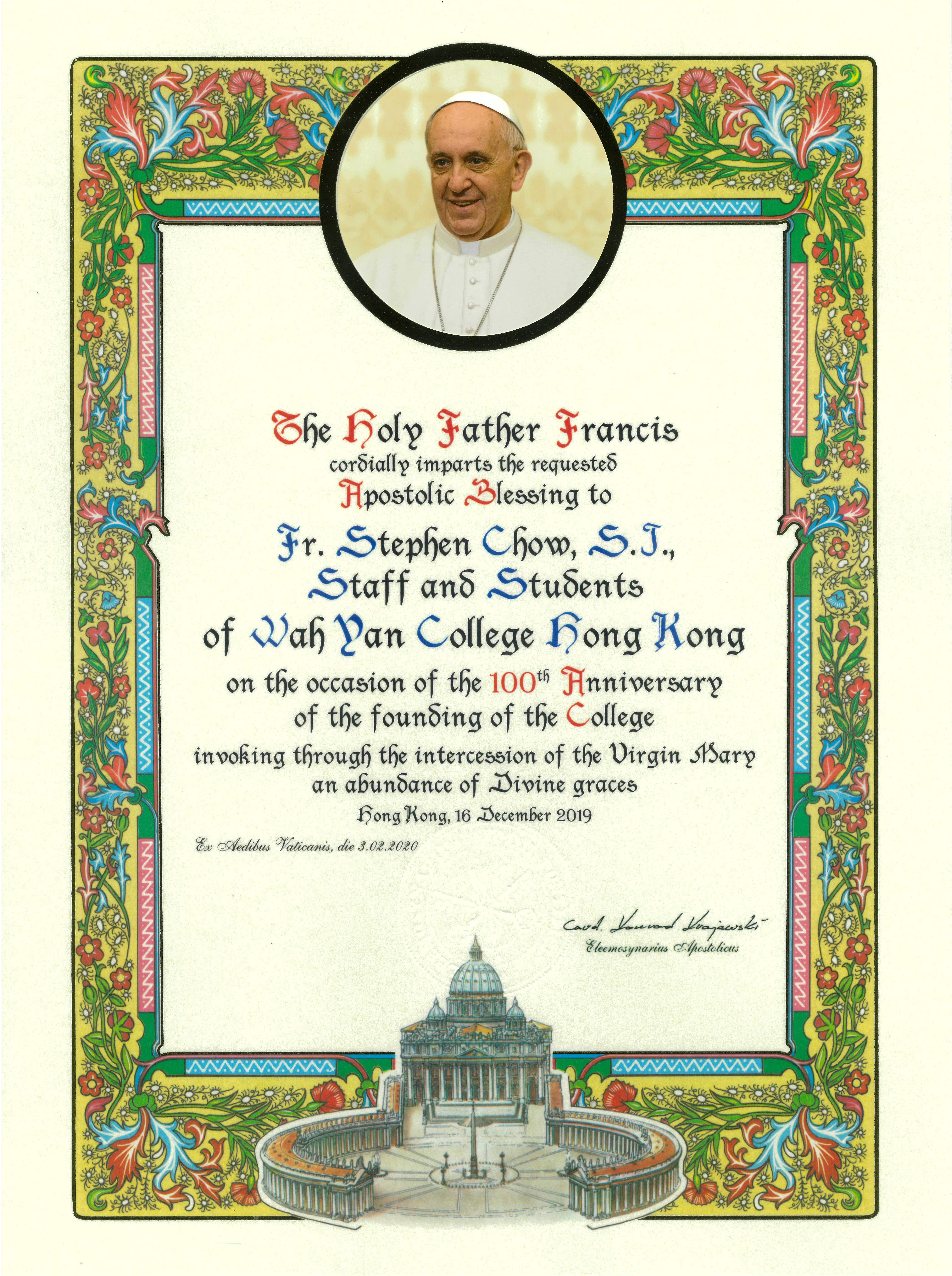 Message from our in-house psychologists: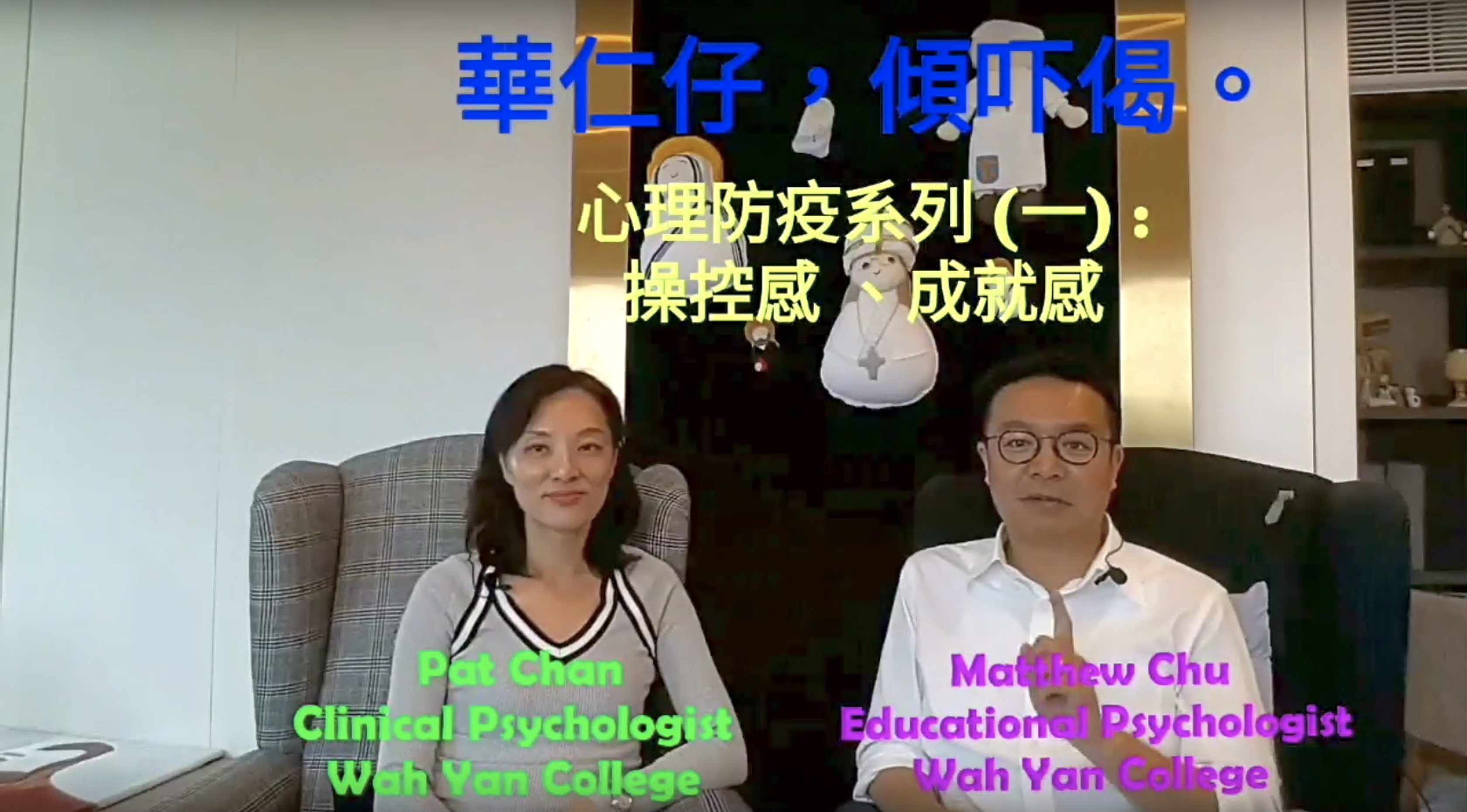 Message from our in-house psychologists:
Blessings from Father General on WYHK 100th and WYK 95th Anniversaries
Notwithstanding a humble start a hundred years ago – from a fledgling school of just two teachers and some 20 students, transcending into two of the leading Jesuit boys' schools, locally and internationally – with a cherished history of nurturing men for and with others for almost a century, Wah Yan College, Hong Kong, and Wah Yan College, Kowloon are celebrating their 100th and 95th anniversaries this year.
On this momentous occasion, we are honoured to receive blessings from Father General Arturo Sosa, S.J. from the fullness of His grace.
As we celebrate amid the signs of the times, we shall always keep in mind that our anniversaries never happen as an independent event – it is the culmination of determination, courage and vision of our predecessors, synthesized with the effort made by the same visionary, courageous and determined succeeding generations. In the next century and beyond, we shall continue nurturing men of human excellence and forming men for and with others, with vision, courage and determination, while upholding our distinctive WahYan-esque values.
F5 OLE music seminar - the Russian Balalaika
| | | |
| --- | --- | --- |
| | | |
| Presentation by Mr Lai, VP to Mr Denys Knchiev and Ms Aesrie Lee  | Ms Aesrie Lee introduces the balalaika | Demonstration by Mr Denys Knchiev |
Spanish Immersion Tour to San Sebastian 2019
A group of 20 students of our Spanish courses, led by Mr. John B. Lam, went on a tour in Spain to take a 3-week Spanish immersion course from 14 July – 5 August. They spent the first 2 weeks at an international Spanish camp in the suburb of San Sebastian and the third week living with host families in the town centre. They had Spanish lessons in the mornings and activities in the afternoons. Apart from studies and activities, they visited the city of San Sebastian, Bilbao, Hondarribia and Loyola in northern Spain and also crossed the border to visit Hendaye, Saint Jean de Luz and Biatrizz in France. One of the highlights of the tour was a visit to Loyola, the birthplace of St Ignatius, the founder of the Society of Jesus, on his feast day, 31 July. It was an unprecedented and historic visit made by Wahyanites to the sanctuary of Loyola in celebration of WYCHK's centenary
A brief stop at the outside of the Stadium of Real Madrid and its souvenir shop is a must for our soccer aficionados.

At the entrance to the glamorous Royal Palace Madrid.

 The statue of Bear & Tree at Puerta de Sol is the iconic symbol of Madrid

Queueing up to enter this magnificent modern art museum of Guggenheim at Bilbao.

A group photo taken at the end of the Spanish Camp can always rekindle memories of the good time with new friends abroad.

Nothing could have been better than paying a pilgrimage to the sanctuary of Loyola on St Ignatius' feast day, 31 July 2019 to celebrate the centenary of WYCHK.
A historic photo of Wahyanites!
 

Nothing could have been better than paying a pilgrimage to the sanctuary of Loyola on St Ignatius' feast day, 31 July 2019 to celebrate the centenary of WYCHK.
A historic photo of Wahyanites!

A day trip to Biatrizz, an elegant French seaside town, where G7's summit meeting was held on 24-26 August 2019.

Lecture on Matteo Ricci at Ricci Hall, HKU (9 Apr 2019)
| | | |
| --- | --- | --- |
| | | |
| Group photo of all participants | Prof. Lau Chi-pang delivering a lecture on Matteo Ricci | Wahyanites participating the lecture |
Mid-night Mass 2018 - 25th December, 2018
| | | |
| --- | --- | --- |
| | |   |
| Midnight Mass 2018 1 | Midnight Mass 2018 2 |   |
Trade Fair of JA Company Programme at Chater Garden in Central (15th December 2018)
Under the guidance of business advisors from Bloomberg,L.P., our students formed and operated a JA company, GROUNDE.

 

GROUNDE staff with our school principal, Dr. So.

Our students were explaining their product details, company mission and vision to the customers in the Trade Fair. 

 

 Hungary Exchange Programme Visit to Hong Kong 9 Sept to 19 Sept 2018
| | | |
| --- | --- | --- |
| | | |
| Hong Kong and Hungarian participants of the programme | Let's make some mooncakes together! | Our student introducing Hong Kong to our guests |

 2018-19澳門開平考察團Macau and Kaiping Study Tour 9 Nov To 11 Nov 2018
Our Junior Choir performing at the 130th Anniversary of the Cathedral of Immaculate Conception  27 Oct 2018
| | | |
| --- | --- | --- |
| | | |
| Group Photo of the Junior Choir | Members of the Junior Choir with his Most Reverend Michael Yeung Ming Cheung, Bishop of Hong Kong | Our Junior Choir performing in the Cathedral of Immaculate Conception |
Hungary Exchange Programme 20 April to 30 April
| | | |
| --- | --- | --- |
| | | |
| Good morning gentlemen! | Learning in progress | Practising Hungarian folk dance |
廣東考察團 Guangdong History and Culture Tour - 6th-7th Apr, 2018
| | | |
| --- | --- | --- |
| | | |
| Sightseeing around | 1, 2, 3...Jump! | Introducing historical artifacts |
蒙古、北京十一學校考察交流團 Beijing Inner Mongolia Study and Exchange Tour  - 27th Mar-7th Apr, 2018
| | | |
| --- | --- | --- |
| | | |
| We are on board! | Visiting the Great Wall | Learning Chinese Calligraphy  |
第三十四屆全港學界書法比賽 The 34th Inter-school Chinese Calligraphy Competition - 25th Mar, 2018
| | | |
| --- | --- | --- |
| | | |
| Prize recipients | Judges of this competition | Selecting the masterpieces from students |
Participating in social services - 16th and 23rd Mar, 2018
| | | |
| --- | --- | --- |
| | | |
| Participating in social services at Food Angel's workplace | Visiting street sleepers | A short briefing for our students |
Various Music Competitions - from Feb to Apr 2018
| | | |
| --- | --- | --- |
| | | |
| Members of our Chinese Ensemble | Members of our String Orchestra | Outstanding performance in String Quartet |
台北徐匯中學交流團 Taipei Saint Ignatius High School Exchange Tour - 27th Mar-3rd Apr, 2018
| | | |
| --- | --- | --- |
| | | |
| Visiting another Jesuit school in Taiwan with WYK brothers | Visiting some tourist attractions | Sharing and reflection from our students |
 Hong Kong Heritage Trail 22 April 2018
| | | |
| --- | --- | --- |
| | | |
| At Man Mo Temple | Wahyanites of three generations enjoying the famous cane juice at 60 Hollywood Road! | 'Where's the tank'  |
Environmental Talk
| | | |
| --- | --- | --- |
| | | |
| A special guest | Every one was so excited! | I know the answer!  |
Ricci Heritage Trip to Macau 3 March 2018
| | | |
| --- | --- | --- |
| | | |
| Our students attending a mini-lecture about Matteo Ricci at the Matteo Ricci Institute | Presenting souvenir to Bishop Stephen Lee Bun Sang of Macau | Visiting the Saint Joseph's Seminary and Church |
Wah Yan High Table Dinner 2018
| | | |
| --- | --- | --- |
| | | |
| Our student representative giving the vote of thanks |  Our Vice-Principal Mr. Lai presenting a souvenir to the Guest of Honour, Prof. John P. Burns |  Say Cheese! |
Midnight Mass
| | | |
| --- | --- | --- |
| | | |
|   |   |   |
JA Speed Mentoring Program - Bloomberg L.P (Nov 14)
Form 5 BAFS students joined the Speed Mentoring Program, organized by Junior Achievement Hong Kong in Central office of Bloomberg L.P
| | | |
| --- | --- | --- |
| | | |
| Group photo with Bloomberg mentors | Our BAFS student having a video confernce with students from different Asian cities | Speed mentoring session |

Talk by Dr. Simon Shen Xu Hui on the 'Virtual World' in International Relations on 17 Nov 2017
| | | |
| --- | --- | --- |
| | | |
| Dr. So, our principal, expressing his appreciation | Dr. Shen delivering his talk | Our students asking questions eagerly |

Mass of Convocation for the new Academic Year
| | | |
| --- | --- | --- |
| | | |
| Jesuit Fathers saying prayers | May God bless our new student leaders | Wahyanite Altar Servers |

Interschool Swimming Competition 2017
| | | |
| --- | --- | --- |
| | | |
| Brotherhood | The team | We are the champions! |
 

Caritas Bazaar 2017
| | | |
| --- | --- | --- |
| | | |
| Dr. So, our principal, supporting our boys | A visit by Bishop Michael Yeung | Fr. Rev. Stephen Chow S.J. and Fr. Rev. Clement Tsui S.J. paying a visit to our stall in the rain |
 

01.11.17 Workshop seminar with The Sousaphonics and with Brass Ensemble
| | | |
| --- | --- | --- |
| | | |
| The Sousaphonics | Student Demonstration  | Brass Ensemble workshop |
28.10.17 Wah Yan Junior Boys' Choir Sacred Music Evening Prayer Concert at St Joseph's Seminary Macau
| | | |
| --- | --- | --- |
| | | |
| WYJBC Sacred Music Evening Prayer Concert | WYJBC Group photo at the Ruins of St Paul | WYJBC Group photo at St Joseph Seminary and Church after the Prayer Concert |